Valentine's Date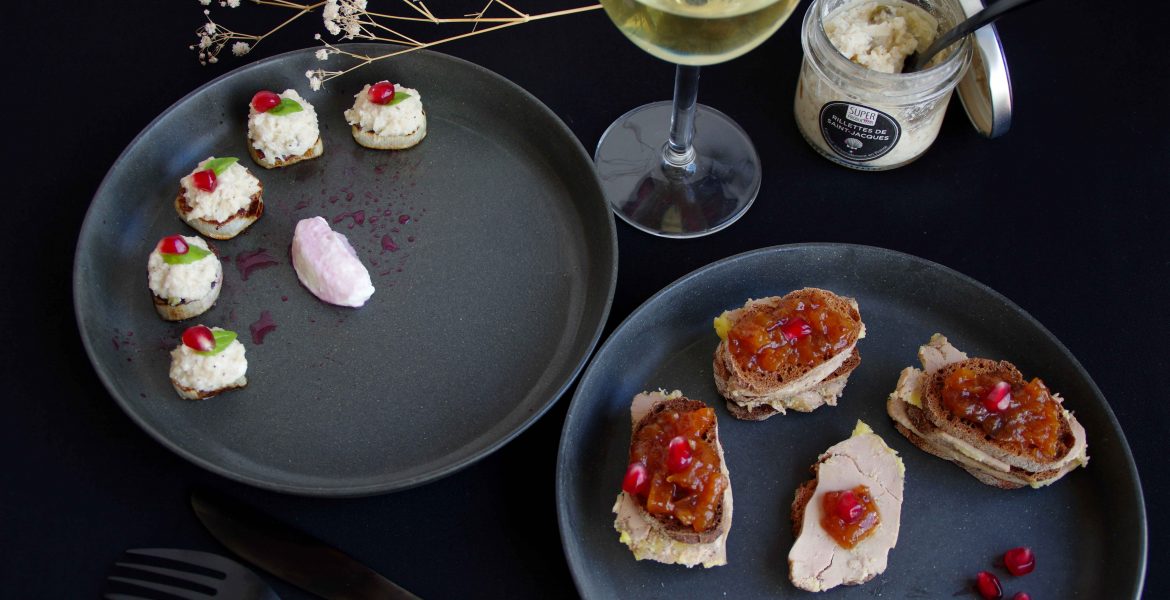 Hello Frappées !
Valentine's Day is approaching rapidly and I must confess .. We don't celebrate it here because we're not the romantic types oops and we find it especially commercial .. oops again. That said, it remains an excellent excuse to eat ! So I grabbed the opportunity to get creative and cook a lovers dinner using my great Superproducteur products. I don't know about you, but when I imagine a lovers night, it comes with a lot of cocooning, like having dinner while watching a long playlist of series under a blanket. With that in mind, I came up with a simple and quick recipe to make the most of the night.
So I say let's craft nibbles for which we won't even need cutlery =D First, a mix of leek and scallop. Then, bread and foie gras. Classics – I'll give you that – but still delicious 😉

Ingredients :
For the scallop nibbles :
• 1 leek  – the white parts
• 1 super jar of scallop rillettes* (or simply scallop if you happen to have some)
• 2 tsp of crème fraîche
• 1 tsp of grated Parmesan cheese
• A few grains of pomegranate
• Basil
• Salt & Pepper
Foe the foie gras mille-feuille :
• ½ baguette
• 1 super jar of foie gras*
• Fig or onion chutney
• Fleur de sel
• A few grains of pomegranate

Preparation :
For the scallop nibbles :
• Chop up the leek in pieces of about ½ an inch
• Melt the Parmesan cheese into the crème fraîche
• Stir-fry the leek pieces with a spoonful of crème on top, it should melt and fill the spaces between each layer of the leek
• Let it cook for about 3-5 minutes on each side – make sure to cover it up to get the leek cooked just right
• Place the pieces on a plate, then add spoonful of rillettes on top
• Add a basil leaf and a grain of pomegranate
For the foie gras mille-feuille :
• Slice fine slices of bread and put them in the oven at 180°C – 350°F for a few minutes, all depending on your taste for toasted bread
• Slice the foie gras into fine slices as well
• Assemble the mille-feuille by placing a slice of bread, then a slice of foie gras, then some fleur de sel. Renew the operation. Once you've stacked up a few layers, close it with one last slice of toasted bread, add a spoonful of chutney with a grain of pomegranate for decoration 😉
Serve these tapas and enjoy your evening together lovers ♥



That's it, you're all set for a nice romantic evening watching your favorite series. Lately, I've been watching iZombie, Limitless, New Girl, etc .. And I can't wait for a few others to come back, like Game of Thrones, The Walking Dead, Once Upon a Time, Bates Motel, etc .. What  about you, what have you been watching lately ? … Well, I'm digressing but I could go on for quite a while if I didn't restrain myself hahaa ..
I wish you a happy Valentine's Day, whether you're alone or not.
Hashtag #Lafoodafrappe 
↑ For whenever you give my recipes a go – let me know ↑
See you !