Chocolate – Pecan Muffins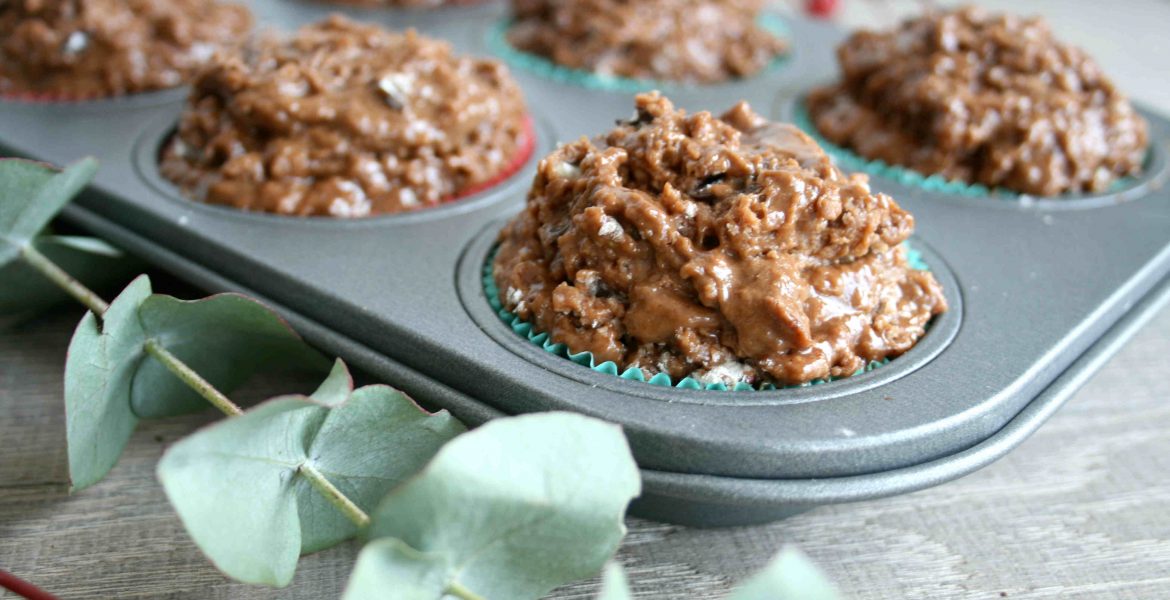 Hello Frappées !
I'm going to let you in on a little secret today ! Do you remember my mini cake with a melting core recipe ? Well, I was actually going for muffins .. They tasted great with their melting hearts but, visually speaking, they didn't look like the muffins of my fantasies – you know, swollen like a balloon. From then on, my sole purpose was to find THE trick to make them swell big time .. After an extensive research on the subject, I found out I needed an American muffin baking pan. This particular type of baking pan comes with fairly deep slots and little edges. I hear it's pretty hard to come by here in France though, which is why I haven't even bothered to try oops. So let's go for muffins the French way 😉 After more or less conclusive trials, I finally achieved to bake my dream swollen muffin, whoop whoop ! There are two critical procedures to follow. Dry ingredients and liquid ingredients must be separated during preparation. Then, they must be barely mixed together until the dough is granular. Okay, let's jump to the recipe to make it easier =D

For 6 big muffins : Preparation 10mn, Cooking 20 mn
Ingredients :
• wheat flour 250g –  8.7 oz
• melted salted butter 100g –  3.5 oz
• melted dark chocolate 70g – 2.5 oz
• broken chunks of dark chocolate 30g – 1 oz
• agave syrup 40g – 1.4 oz
• broken pecan nuts 40g – 1.4 oz
• 2 eggs
• 1 tsp baking soda
• ½ a sachet of baking powder


Preparation :
• Preheat the oven at 200°C – 392°F
• In a bowl, mix flour, baking soda, baking powder, chocolate chunks and pecan nuts – set aside
• In another bowl, melt the 70g – 2.5 oz of dark chocolate together with the salted butter
• Add agave syrup and eggs & mix
• Pour the liquid mixture on the dry mixture
• Mix lightly to get a granular dough
(If flour is still visible it's more than okay)
• Put muffin cases inside your pan's slots
• Fill up the cases generously – it has to be bulging
• Put them into the oven for 7 mn at 200°C – 392 °F, then 13 mn at 180°C – 356°F
• Serve warm with a good tea






And as always, here's a zoom for the gourmands =p

Sooo did you enjoy this recipe ? Personally, I love this association. The salted butter gives an extra bonus for my taste buds, I loOoove it ! As usual, don't refrain from showing me your own results. We're gonna have to come with a hashtag in the very near future, don't you think ? I'm all ears for fun ideas =D
See you soon Gourmands !