At the Pavillon Ledoyen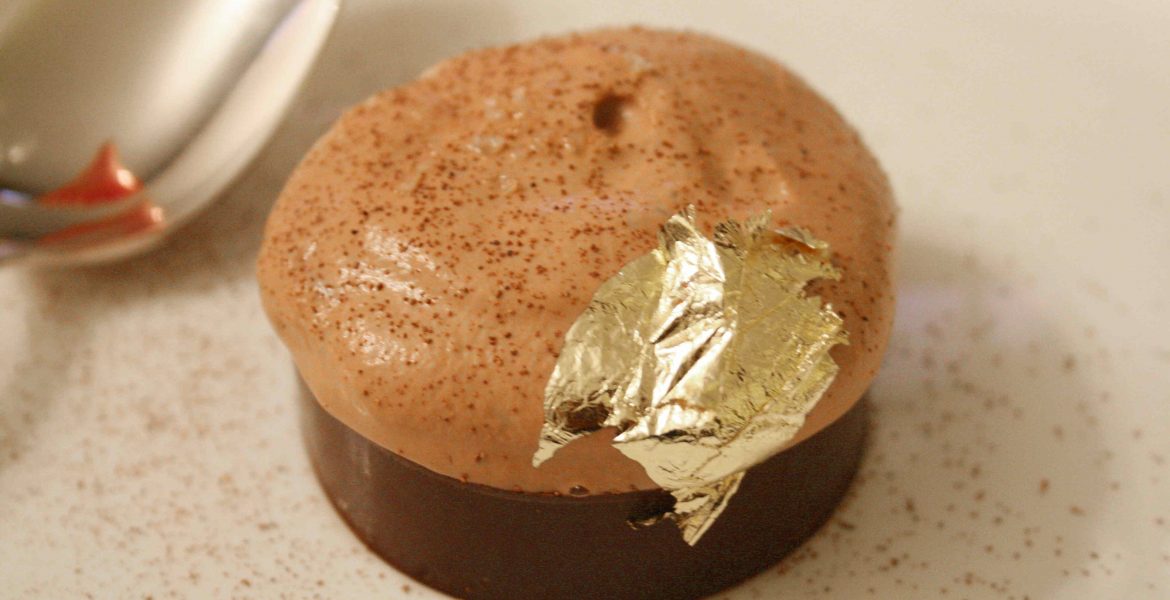 Hello Frappées !
Last Saturday, I was invited to savor a gastronomic meal in partnership with Badoit and La Folie Douce – the latter cheerfully and vigorously managed by Luc R. – preceding their show the same night at the Chalet des Iles. I jumped on the chance because I rarely eat French gastronomy for financial and quantitative reasons. Yes, being the food lover that I am, the idea of a tiny bite on my plate usually makes me reluctant to take the plunge. I like my plate full, just like at home. Granted, though, that the emulsion of tastes is obviously of a whole different level. So it was a perfect opportunity to discover our dear gastronomy, and I was not disappointed !
Here I was at the Pavillon Ledoyen inside the kitchen of Yannick Alléno – literaly, because we had a tour. Then, we headed back upstairs to a room privatized for the occasion to make acquaintance with each other around appetizers. The setting is really prestigious and the staff is pampering .. This is definitely a luxury restaurant.





After a little chattering and a few sips of sparkling Badoit, we were all set, ready to discover the menu .. Promising ! With no less than 9 courses – 6 salty and 3 sugary, the meal revolved around beef, carefully selected by Metzger Frères or, more precisely, by Olivier M. himself, who was among us to share everything with passion. The challenge here for me was that I hardly ever eat red meat, let alone uncooked. I dreaded the serving of the first courses (tartare, carpaccio..), but I quickly changed my mind and devoured those delicious treats ! The dishes were all soooo good. We finished at 5.30 with a full stomach ! Picture time :
Tartare de bœuf en 4 façons

Assortiment de Carpaccio de bœuf

Tataki de bœuf

Tarte friande de langoustine

Bœuf bavière et bœuf français aux cèpes

Dessert à la mangue

Mousse de cacao

Chocolats et Mignardises

Pavillon Ledoyen
1, avenue Dutuit
75008 Paris
Mon-Fri 12-1.30pm // 7.30-10pm
Sat 7.30-10pm
Now, I think I'm going to wait at least one month before having beef again 😉 Anyhow, I'll keep very good memories of this place. The location is great too – I was able to snap a splendid photo of the Place de la Concorde.
I hope you had a culinary trip through these pictures =D
See you soon gourmandes