The King's Brioche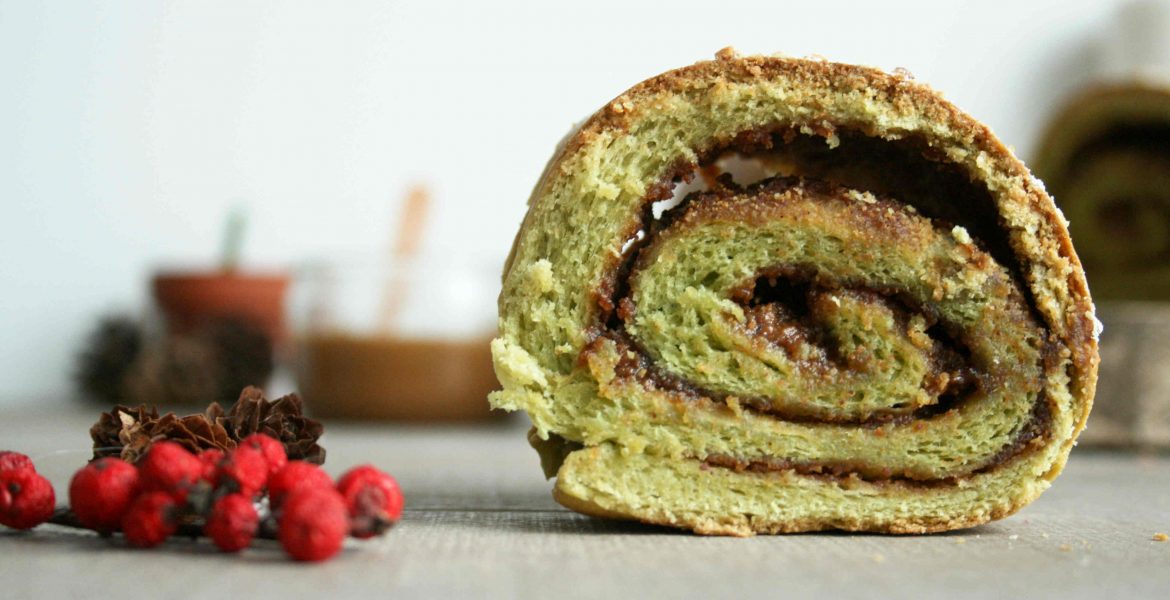 Hello Frappées !
Today is Epiphany Day, but I trust you already knew that 😉 I don't know which team you're part of, but personally I'm the kind who eats the king cake on the previous Sunday, on January 6th, AND on the next Sunday – sometimes even on the days inbetween .. oops.
So last Sunday, we celebrated with Margot at my friend Linda's place – an amateur uber-talented pastry chef – who cooked two delicious king cakes for us, one frangipane and the other gianduja. They were awesome, Margot and I loved it. She's the one who got the charm.
Since I've already had king cake, let's vary the pleasures with a brioche recipe, which is also widely consumed at this occasion. To do this, I wanted to test an original mix and my mind stopped on a blend of praline and matcha.

For 1 brioche : Preparation 15 mn, Resting Time 4h to 24h, Cooking Time 20 mn
Ingredients :
• wheat flour 250g – 8.7 oz
• melted butter 60g – 2.1 oz
• 1 egg + 1 egg to slather
• sugar 20g – 0.7 oz
• fresh baking powder 10g – 0.3 oz
• warm milk 70 mL – 2.4 oz
• 1 pinch of salt
• 2 tsp of matcha tea
(here I use matcha tea* from Teatox)
• praline
• 1 charm


Preparation :
• Crumble the baking powder into the warm milk
• In a bowl, mix all the ingredients
(flour, melted butter, 1 of the eggs, sugar, milk + baking powder, salt, matcha)
• Knead for 10 good minutes
(the dough must become bouncy and flexible and stop sticking to the bowl)
• Let the dough rest until its volume doubles, sheltered from any draft of air
(2h minimum)
• Degas the dough and spread it
• Apply a layer of praline and roll up the dough
• Add the charm
(Here I use homemade praline, yuuum)
• Shape a circle
• Let it rest for a night in the refrigerator, at best. Otherwise let it rest until the volume doubles (2h minimum)
• Preheat the oven at 180°C – 356°F
• Get the dough out of the fridge
• Slather with an egg using a brush
• Sprinkle with pearl sugar if you have some (I didn't .. oops) in your cupboards, it looks really good
• Put into the oven for 20 mn at 180°C – 356°F
• Serve warm and make sure you don't forget the crown 😉



I hope you enjoy this recipe. It may be a little late to cook it and enjoy it this very Wedsnesday, but you can still give it a go on Sunday. If you do, don't hesitate to share it with me. Laura even came up with the perfect hashtag to make sure I wouldn't miss your own attempts at my recipes on social media : #lafoodafrappe
See you soon Gourmands !