Jogjakarta – Indonesia 2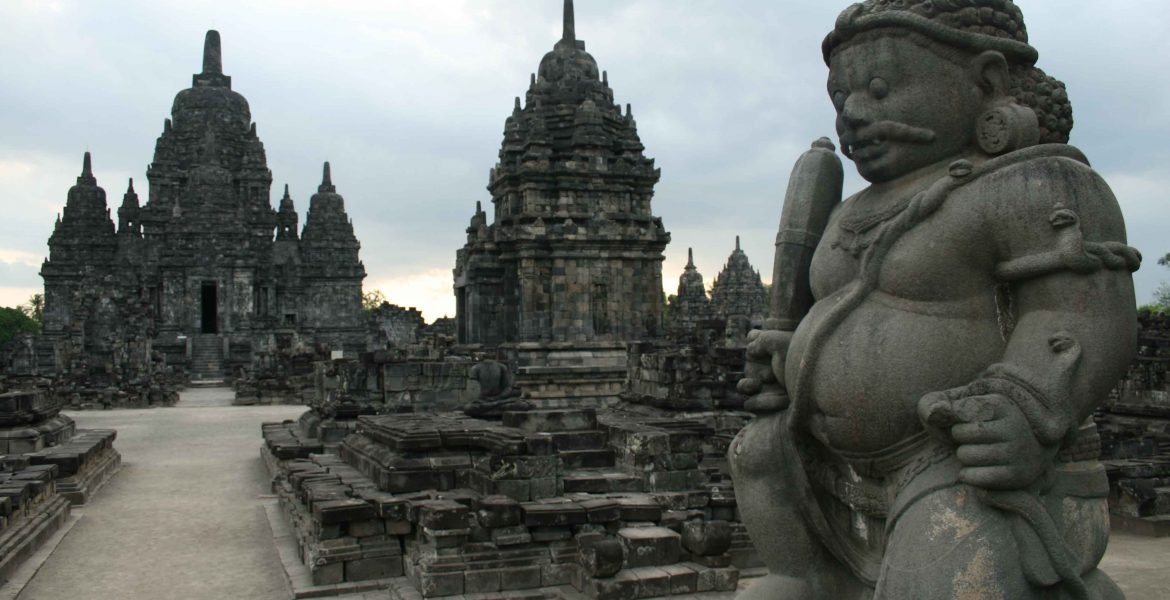 Hey Frappées !
Today let's continue our trip to Indonesia.
[If you missed the first part, it's right here]
After Jakarta, we were on our way to Jogjakarta, or Yogyakarta. 9 hours of train later, we were at the station, only 10 minutes away on foot from the hotel we had booked. Great, no need to bargain for a lift with the crowd of raging taxi drivers waiting for us at the exit.
We went straight to the hotel and took some time to relax and enjoy the pool, yeah baby ! Moments later we were off to explore the city by night. And despite being a little reluctant at first, we had a go at street food so we wouldn't feel like we missed out on anything. We tried skewers and rice – the little braided packets on the photo below – and survived.


The next day, we decided to visit the Kraton – the Sultan's Palace – and its surroundings. After a nice breakfast at the hotel, which is also a restaurant, we were ready for the day.


After leaving the hotel, we were heading for the buses to Kraton when a Becak cyclist – the Indonesian rickshaw – accosted us. We accepted for the fun and adventure of it, and there we were visiting Yogyakarta in full tourist mode.

Here is the Kraton, the palace where the Sultan and his court still live. The residence itself is not open to the public but the other buildings have been turned into a museum / exhibition to recount the history of the former Sultans.




Despite the presence of visitors, the Sultan's court still go about their business.


After our visit, our Becak rider was waiting for us at the exit, having convinced us to hire him for the whole day. He played tour guide, escorting us to a few places with no entrance fee and teaching us their stories. We also went to the water castle, the bird market and the floral market.




Our target for the next day was Prambanan. And as usual, we used public transportation to get there.





Secondary temple in Prambanan : Candi Sewu ♥





Last picture of Prambanan, at night.

Embarked on the visit of temples, the next day was dedicated to Borodubur, a huge Buddhist temple. It is customary to visit it at sunrise, but it was technically undoable without a tour operator. So we went there in the middle of the day and we were not the only ones.







And that's the end of our journey around Jogjakarta.. Mount Bromo here we coooome !
---
My thoughts on Jogjakarta
> Jogjakarta is a far less polluted city than Jakarta which gave us a breath of "fresh air". But let's be honest, it remains heavily polluted.
> The Bladok hotel in which we stayed was very satisfying despite worrisome reviews about bed bugs, but when we got there our bed was immaculate. There is a nice restaurant inside where we ate 3-4 times during the 3 days we stayed. The street is filled with other hotels.
> Riding a Becak is something worth trying. It's a fun experience and may help out the local economy. We gave our driver a solid tip. He had been very nice and honest and we'd seen him struggle a few times.
> Prambanan is easily reached with public transportation, although it takes time. But it's tougher to get to Borobudur. After taking a public bus to its terminus, you have to switch for a private minibus and that's when things get complicated. The driver / cashier tells us the trip will cost RP12,500 but changes his mind halfway to our destination and asks for RP 25,000. It was quite unsettling and I decided not to pay twice as much. FYI, RP 12,500 is about €1, which is nothing in itself.. but I wouldn't comply on the principle that ripping off tourists is not cool ! After 20 minutes spent poking my shoulder for the money, they stopped on the roadside to pressure us some more, forcing me to hand them the RP 25,000 to avoid penalizing the other tourists.
Anyway.. given this incident – even though it certainly won't happen to everybody – my advice would be to book an all-inclusive tour for Borobudur & Prambanan. Plus, I think the trips must be shorter. They usually include a sunrise at Borobudur followed by an afternoon in Prambanan. I've seen wonderful pictures of Borobudur at dawn. I almost regret not doing it.
> Borobudur was not a transcendental experience. The Lonely Planet guide sets high expectations for the temple but it's not as impressive as it's cracked up to be.
> I loved Prambanan, especially Candi Sewu. It was one of the three secondary temples and there was nobody else but us. It made for an even more enjoyable visit.
---
So, who's been to these places and what did you think of them ?
See you Travellers !