Ubud – Bali ♥ Indonesia 4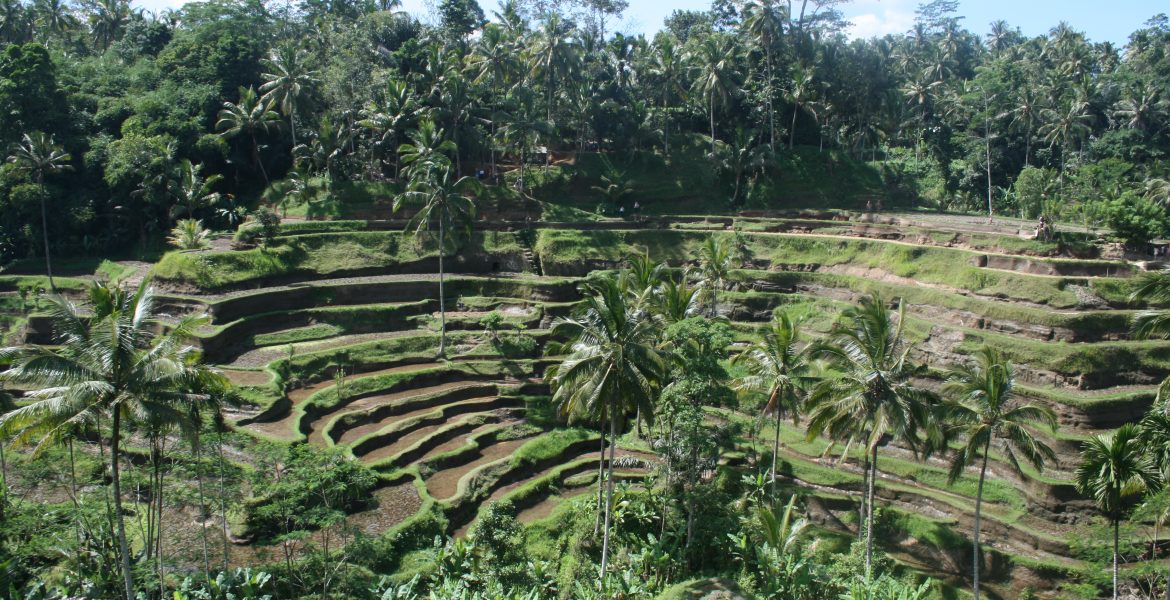 Hello Frappées !
It's been a little while since we last talked travel around here, hasn't it ? Well in my defense, we do eat more than we travel, right ? .. In fact we even do it while travelling ! I'm already getting distracted before starting .. Looks like you're in for a confusing article .. Oops ! Alright, time to get a grip on myself =D
Our last installment left us in awe at the magnificent Mount Bromo which I definitely advise you to check out if you have time , even though it's jam-packed with tourists. Our next destination takes us on another island ! We hadn't planned on heading to Bali so fast, but we did. We took a bus from Probolinggo. Commuting without getting ripped off in Indonesia being a rare commodity, the Toto travel agency we got the tickets from made us pay for our meals whereas everyone else could eat for free .. But let's not dwell on this, with experience you get over that kind of inconvenience more easily 😉 We got to Ubud in the middle of the night and shared the only taxi available with two other couples, copiously overcharged ! At the hotel lobby, the staff was kind enough to check us in despite the odd timing, at 5 am. Positive news at last, we forget everything and take a fresh start.

[Day 1] After a few hours of sleep at Merthayasa Bungalows, we were ready for a fuss-free day in Ubud. Our first assignment was to look for food. We came across the excellent Maha bar right next to the hotel, where they had cute and fluffy rabbits romaing free. The place has a nice decoration with a fountain and paintings on the walls, the staff is nice and above all, the food is great ! It officially became our Ubud HQ. Then we spent the day visiting the Puri Lukisan museum, sipping on drinks with a view on rice fields, and enjoying a Balinese dance show ! It was a really nice first day. Spending a day without worrying about transportation was invigorating ! Ubud gave us a sense a serenity back, a feeling we will forever attach to this town. We did feel better right away in Ubud – as well as in Bali in general – for several reasons. First, the town is smaller than the huge polluted cities of Java. Second, Bali is a lot more touristic and everything is custom-made – or preserved – for tourists to feel good. You can find well-decorated restaurants at every street corner with fountains, plants, comfy chairs, etc … Which doesn't mean I regret our trip through Java with its unforgettable sights.
Jalan Monkey Forest


Maha Bar







Puri Lukisan Museum

Cocktails with a view on rice fields



Balinese dance







♥
[Day 2] After a light breakfast at our hotel, our second day was going to be all about our little cousins the macaques ! =D We must have stayed there for about 3 to 4 hours, divided between taking pictures of them, feeding them bananas sold on-site, staring at the uber-cute babies, daydreaming, taking sides during clan fights, wandering around the big forest, making sure they don't pinch our stuff, lazing around, sitting still in the hope that a little monkey gets on our shoulder without the help of bananas, getting our hair pulled … You get it, there is so much to do there ! What we really liked about the Monkey Forest is that the monkeys are totally free to move. You even get to see them on the outskirts of the forest. But beware, they do steal your stuff and can be aggressive if you don't let go. When you buy your tickets, there's a list of rules to follow. We did and everything went smoothly ! \o/
Monkey Forest






♥
[Day 3] The third day, we wanted to explore a little further than the town center. Public transportation is non-existent on Bali, so after pondering for a while whether we would rent a scooter or not – the go-to means of transportation for both tourists and locals – we finally decided to rent bicycles ! Rice field terraces were 7 miles away, in Tegalalang. Of course we didn't expect 7 miles of epic steepness … At least we deserved the superb view, the stroll and the lunch in front of this iconic landscape of terraces. After taking it all in, we headed back to return the bikes, which was obviously a lot easier than getting up there..
Tegalalang's rice field terraces






♥
[Day 4] After taking a look at day tours, we crossed their information to make our own list and decided to rent a taxi for the day. They hail you themselves in the streets so you can't miss them. On the money department, know that it's always better to be a group of 4, or even 6, because the price will stay the same. It was a bit pricey for us 2 so we had to negotiate.
Our tour started with the visit of a temple lost among rice fields, the Gunung Kawi. It's a very old temple that is accessed by climbing many stairs, so get your thighs warm and ready ! We met a large spider, not surprising given the surrounding jungly environment. Don't hesitate to wander around and take your time. We came across a small waterfall, but our driver was rushing us and we only had a few seconds to enjoy it …
Then, we went to the Water Temple, Tirta Empul. It features pools where Indonesians bathe to purify themselves. Visitors who want to take part in this ritual are highly encouraged to do so. I liked the atmosphere around these pools, where you get to literaly dive into Balinese culture for a graceful and sincere moment.
The next spot was near Kintamani, at the top of a moutain, to enjoy the view on Mount Batur.. but unfortunately the weather was not on our side so we didn't see anything.
Next on our list was the Besakih Temple, a bad experience because of the local guides who kept insisting very very very heavily that we pay for the services of a spiritual guide without whom parts of the temple were not accessible AND for a prohibitive entry tip, arguing that previous visitors had all given excessive amounts of money. We gave them a few euros to get them off our backs (and not the … 60€ – about USD 65 – they were asking for ! …). We were eventually able to take the stairs around the temple after a very harsh argument with the so-called spiritual guides. The site is beautiful but really, mental anguish ruined it for us.
We ended the day with the visit of a Luwak coffee plantation, presumably the most expensive in the world. Look for it yourself and find out what it's made of, you won't be disappointed 😉
Gunung Kawi






Tirta Empul






Besakih Temple






Café Luwak
[Day 5] The previous day, we booked seats on a bus that makes the link between the towns of Bali. The next destination is Kuta, its beaches and nice memories.
---
My thoughts on Ubud
> Magnificent rice fields, very lush landscapes. A stroll among the rice fields is really enjoyable, especially after a steep riding trip.
> The Balinese dance show .. the performers are incredibly skilled. We were especially impressed by the way they use their eyes, one of them was even better than the others.
> The lack of public transportation. You can't hop on a bus to get around, except for transfering between the towns of Bali. So you either walk, get a private driver, or rent a scooter. Looking back, I would recommend to go for a scooter because it's really the most practical and cheap solution !
> The Monkey Forest and its cute macaques ! It's really an attraction designed for tourists but not seeing them caged is pretty nice. I even made a new friend who would always come back on my shoulder and climb on other people only for bananas 🙂
> Ubud was great. I liked how it contrasted with Java, even if it's custom-made for tourists.
> Hearing "Yees Massaaaage" at every turn is an experience to be.. experienced ! We even saw a painting with the phrase on it.
---
I hope you enjoyed this trip to Ubud ! Don't miss our next – very turquoise – episode, if you catch my drift.
See you Trotters !